CWRU to honor four Faculty Distinguished Research Award winners during Innovation Week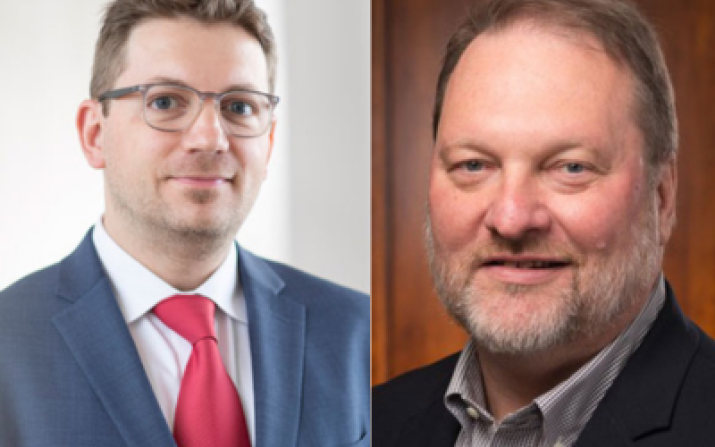 Published on
Sep. 20, 2023
Of the many traits that unite members of the Case Western Reserve University community, one is perhaps the most inspiring: an innovative spirit. During Innovation Week, taking place Sept. 26–29 this year, that spirit will be celebrated with a full slate of events.
Among the festivities will be the honoring of this year's Faculty Distinguished Research Award winners. Established in 2013, the award is given annually to faculty members who have made outstanding contributions on a grand scale through their research. It is among the top honors bestowed upon faculty at Case Western Reserve.
This year's winners are Umut Gurkan, Ralph Harvey, Robert Kirsch and Xin Qi.
The winners will be formally recognized during the Innovation Week opening keynote event Tuesday, Sept. 26, which will run from noon to 2 p.m. in the Tinkham Veale University Center ballroom. A free lunch will be provided to all attendees. 
Register to attend, and learn more about the 2023 honorees.
Umut Gurkan
Wilbert J. Austin Professor of Engineering
Professor, Department of Mechanical and Aerospace Engineering
Professor, Department of Biomedical Engineering
Across the world, researchers generate medical diagnostics and treatments regularly—but those findings don't always reach the people who need them the most. 
Through his work at Case Western Reserve University, Umut Gurkan aims to bridge that gap. A member of the Cancer Prevention Control and Population Research Program at Case Comprehensive Cancer Center, Gurkan focuses on point-of-care systems to make existing diagnostics and treatments more accessible.
"There are not many researchers actually working on making a disease that can be diagnosed more diagnosable, or a disease that is already treatable, more treatable, a cure that is possible, more accessible," he said.
In Gurkan's view, this lack of proper attention starts the moment many people are born. Though infants in the United States are screened for inherited genetic disorders and diseases, that is not the standard in many other countries, leaving babies to suffer from treatable diseases that go undiagnosed.
"It really bothers me as an engineer to have certain groups suffering from disparities for a disease that is diagnosable, that is treatable, manageable, (or even) curable," Gurkan said.
To combat the issue, Gurkan developed a point-of-care diagnostic system and integrated it with vaccination and immunization programs to ensure its implementation.
New diagnostic capabilities lead to more reliable information, better understanding of a disease's prevalence and more awareness of its state, all of which connects back to public health, he said.
"All these diagnostic technologies that we develop—and we make them available in these places—eventually lead to policies," he explained.
Today, the point-of-care diagnostic technology Gurkan and his team developed is available in 30 countries. It has paved the way for more than 500,000 tests to be delivered to babies in Africa and India, and saved an estimated thousands of lives, based on prevalence calculations.
Translating scientific discoveries and inventions from the lab to the outside world means thinking about social, public health, regulatory, business, legal, and ethical aspects, Gurkan said. And in his view, Case Western Reserve offers the multidisciplinary and interdisciplinary environment necessary to complete his work.
"There are problems that we cannot solve," said Gurkan, "but there are many other diseases that we can diagnose, treat, manage and cure, and we can save thousands and potentially millions of lives in those areas."
Robert Kirsch
Allen H. and Constance T. Ford Professor
Chair, Department of Biomedical Engineering
As an undergraduate student studying electrical engineering, Robert Kirsch wasn't particularly interested in the career options available to him at the time, such as  automobiles or heavy duty machinery.
Instead, he uncovered a passion for engineering's medical applications. Inspired by his brother-in-law who had a spinal cord injury, Kirsch went to graduate school for biomedical engineering before pursuing a postdoctoral fellowship, during which he learned more about the body's natural control of movement.
Together, these three fields—electrical, biomedical and mechanical engineering— laid the foundation for Kirsch's career. Today, he serves as the principal investigator in the Case-Coulter Translational Research partnership—a consortium of researchers, engineers and clinicians from across Cleveland—as well as the executive director of the Cleveland Functional Electrical Stimulation (FES) Center. 
Kirsch's research focuses on the restoration of arm movements for people with complete upper limb paralysis from high-level spinal cord injuries. He employs FES to administer small, artificially generated, low-level electrical pulses to stimulate participants' muscles to make movement.
"In the last 15 years, we've been working on ways to provide people with control of their arms, and that's through brain recordings," Kirsch said. "So we use what are called brain-computer interfaces, implant electrodes in the brains of people and have them think about making movements and then having the FES center stimulate the muscles so that those movements occur."
What keeps Kirsch motivated in his work is the new knowledge arising from science that his team incorporates as they work with participants who receive the systems. The participants themselves also offer suggestions on how things can be improved. 
Developments outside of the project offer opportunities as well. For instance, faster computers and the evolution of the brain electrodes that the team uses have made processes more effective for them.
The next big step will be turning the brain-controlled FES into something people can routinely use.
"I think we've shown the basic feasibility of the approach, and now we have to make it so that it's easier to install, it's less expensive, it's easier to use by a non-scientist," he said. "These are the next challenges ahead, really."