Postdoc Spotlight of the Month: Ankit Sharma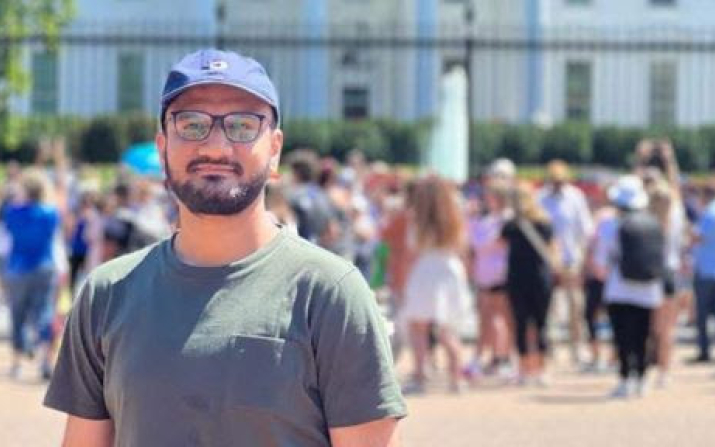 Published on
Sep. 11, 2023
To recognize the contributions postdoctoral researchers make to Case Western Reserve University—and their respective fields—The Daily has partnered with the Office of Postdoctoral Affairs on a new monthly series. Know an outstanding postdoc making an impact at CWRU or in their field? Nominate them to be featured in this series.
In any setting, fires can lead to devastating disasters. But in space, fires pose completely different hurdles that scientists are working to understand. Among those on the case is Ankit Sharma, a postdoctoral scholar in the Department of Mechanical and Aerospace Engineering at Case Western Reserve. 
A former fire engineer, Sharma is working with Ya-Ting Liao, associate professor of mechanical and aerospace engineering, to better understand fire risks in space and develop engineering-optimized solutions. He grew up in India (Jammu and Kashmir) and earned his PhD in Mechanical Engineering from IIT Roorkee. 
In recognition of his work in the field, the Society of Fire Protection Engineers named Sharma one of the group's "Global 5 Under 35" award winners in 2023. The honor recognizes the world's top five rising leaders who work at any level in the industry, academics or research and who has made an impact in reducing global fire risk.
The organization also recently named Sharma one of four Grand Challenges Initiative Research Fellows. His focus will be on climate change. 
Most recently, Sharma secured funding from NASA Physical Sciences Informatics for a research proposal titled "Predicting Material Flammability in Partial Gravity using Microgravity and Ground Data," for which he serves as a co-principal investigator alongside Liao.
When it comes to his studies, Sharma is also interested in lithium ion battery fires, climate change, wildland fires and numerical modeling. He shares his expertise as an editor and reviewer on the boards of journals, conferences and technical committees.
On campus, Sharma was recently named co-president of the CWRU Postdoctoral Association (PDA). He also is one of the organization's social media ambassadors and is chair of the public relations committee.
Learn more about Sharma and his experiences as a postdoc at CWRU in this month's spotlight.
1. What has been the best experience so far as a CWRU postdoc?
I've had an excellent experience during my postdoctoral tenure at CWRU. The transition to a new location and culture, along with the opportunity to meet new people, has been incredibly enriching, enjoyable and thrilling. 
A particularly memorable moment was receiving a gracious letter of appreciation from President Eric Kaler. It was truly heartening to be in an environment where you receive such positive recognition for your works. 
Another fanboy moment was visiting NASA Glenn Research Center and delivering an invited technical talk.
2. What's your best piece of advice on how postdocs can make the most of their postdoc careers and prepare for their future goals?
Postdoc is usually considered a transition period from PhD to a full-time role. So, my advice to fellow postdocs will be to utilize this time efficiently and clearly define your short- and long-term career goals and aspirations. Try to collaborate, expand and network both within and outside your research areas by attending conferences, workshops, and being active on professional social media platforms. Develop new skills including grant writing, mentoring, project management, communication, and leadership. Don't limit yourself; be flexible. Identify different opportunities, whether they're in academia, industry or entrepreneurship.
3. What are your career goals after your postdoc?
Following the completion of my postdoc, my aspiration is to utilize the research skills I have gained during this time to address the practical challenges associated with real-world fire-related problems including their impact on climate change. I will seek out positions within research organizations and explore funding opportunities to start my independent research career.
4. How do you think the postdoctoral experience at CWRU is helping you prepare and advance toward your goals?
Joining the postdoctoral program at CWRU in Prof. Ya Ting Liao's lab has proven to be one of the most rewarding decisions. I am grateful to Prof. Liao for being an outstanding mentor and creating a supportive environment that empowers me to excel in my work. 
Furthermore, thanks to the CWRU PDA, I have been able to cultivate my leadership abilities, and coordinate initiatives aimed at enhancing professional growth and advancement of fellow postdocs, including me. 
Overall, I am grateful for the opportunities I have been given at CWRU that prepared me to look forward to taking on greater challenges ever.