CWRU Motorsports sweeps Baja SAE Ohio, places 1st overall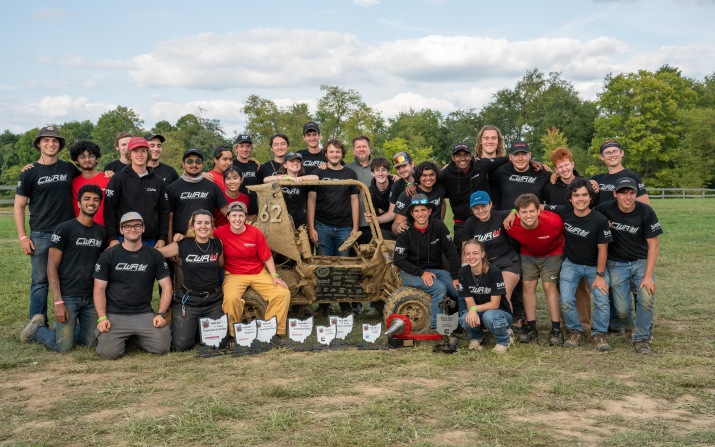 Published on
Oct. 6, 2023
Preparation for these competitions is extremely extensive and detail-oriented. "We spend the whole year preparing for the competition," fourth-year Team Captain Sam Hepp said. "A mindset that the team has recently been pushing is one of diligence and making sure no stone is left unturned. By that, I mean that every bolt on the car gets checked multiple times, and we work on the car until we are sure we have done everything we can to prepare the car for the race to the best of our ability. This mentality has been a huge shift in pushing us towards consistent placement at competition."
Part of the team arrived at the Honda Rec Center on Wednesday, Sept. 6, where Hepp and second-year Panels Lead Ryan Eaton delivered their mock sales presentation for the car, earning the team their 2nd place in Business Presentation.
The next day was the team's first day at the Briarcliff Motocross, where the majority of the competition was held. Teams spent their time receiving a thorough technical inspection of their cars to ensure the safety and compliance of each vehicle registered in the competition.
Friday was limited to a design presentation, where several team members explained the car's entire design cycle to four judges.
Saturday, Sept. 9 was the first day of competition involving dynamic events, which included the judging for four more placement categories: Suspension and Traction, Maneuverability, Acceleration and Pilot Pull. Each of these events was very brief, only taking place over a few minutes, and each team had the opportunity to do each event twice.
For Hepp, the event of note was Suspension and Traction. "The team hasn't finished one of these courses since 2016. It was Brendan [Flanagan]'s first time driving at competition, so the expectation was just that he was going to go out there and drive as hard as he could. To watch him not only finish the event, but set the first place time for it twice on that day, was an incredible thing to witness and be a part of," Hepp said.
CWRU earned 1st place in Suspension and Traction, 2nd in Maneuverability, 3rd in Acceleration and 28th in Pilot Pull.
The last of these dynamic events involved towing a Honda Pilot with the Baja car, which is particularly difficult with a lighter vehicle, but minimizing the Baja car's mass is critical for improved performance in other events. "We've worked strategically to optimize performance in [Pilot Pull] as much as possible without compromising performance in the other three dynamic events or the endurance event," Hepp said.
CWRU's exceptional performance in the dynamic events earned them 2nd place in Overall Dynamic.
Sunday, Sept. 10 was the final event, known as endurance day, consisting of a four-hour off-road race, the goal being to complete as many 1.2-mile laps as possible in the allotted time. Second-year CNC Lead Flanagan once again took the wheel, propelling the team to a 2nd-place finish in Endurance.
"We had some minor component issues and driver fitment issues that were unexpected, but I was incredibly impressed by how the whole team stayed calm and rose to the challenge," Hepp said, reflecting on the entire competition as a whole. "As the competition progressed, and we were experiencing more and more success, the team was getting extremely excited, but still managed to stay calm and make smart and informed decisions. It was one of the best weekends of my life to get to see something we've all worked so hard on come together and to be able to see it through and keep it consistent to the finish."
In terms of preparing for next year's competition, the team has already started designing their next car, and Hepp has great expectations of her team. "There's so much to be proud of in terms of both the car and the team. The car that the team designed in the past year is incredible. The team was met with so many challenges from the series, including a new spec engine, required [four-wheel drive] and stricter regulation on frame manufacturing. The team not only tackled those challenges but took on even more. The team truly seized every opportunity to do something new and cool and push the boundaries of what the series has seen before, including the implementation of a semi active suspension system, 3D printed titanium parts and creative routing of the [four-wheel drive] system. I am so impressed that in the face of challenges the team just soars."