Dr. Emily Pentzer named the editor-in-chief for the new journal RSC Applied Polymers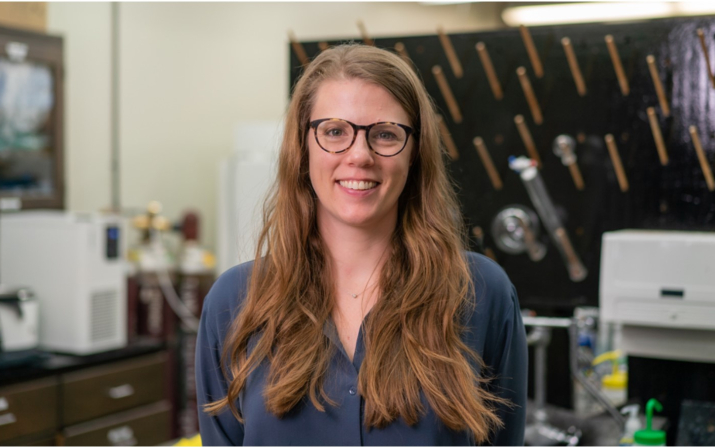 Published on
Nov. 20, 2023
In Dr. Emily Pentzer's office at the Reed McDonald Building at Texas A&M University, a display of honors lines the windowsill, showcasing her notable achievements. Among these accolades, one of the most recent and cherished is her appointment as the editor-in-chief of the Royal Society of Chemistry's (RSC) latest journal, RSC Applied Polymers.
While traditional awards are often acknowledged and then set aside, Pentzer emphasizes the ongoing commitment that comes with this prestigious role. As an associate professor in the Department of Materials Science and Engineering and Department of Chemistry at Texas A&M University, she expresses gratitude for the trust placed in her for this opportunity.
According to Pentzer, the journal aims to shed light on the versatile applications of polymers, emphasizing new studies that contribute to the collective knowledge of the chemical sciences community. It specifically addresses pressing global challenges, including energy harvesting, storage, sustainability, and water remediation. The topics covered range from membranes for separations to bio-based adhesives and coatings.
A noteworthy aspect of RSC Applied Polymers is its Gold Open Access status, ensuring that all articles are freely accessible online. The RSC has also committed to covering all article processing charges (APCs) until mid-2025, promoting global accessibility for researchers to publish their work without financial barriers.
The Royal Society of Chemistry, known for publishing impactful journals such as Polymer Chemistry, where Pentzer has served as an associate editor since 2017, approached her when seeking interest in launching a new journal. Pentzer's vision for the journal revolves around leveraging her research experience to make it a success.
"This is a tremendous opportunity to influence the field, aligning closely with my group's research on using polymers to enhance structures, devices, and technologies," Pentzer remarked.
Beyond academia, the journal's applied focus provides a platform for industry engagement and encourages collaboration among researchers from diverse scientific backgrounds. Pentzer is committed to ensuring the continued success of RSC Applied Polymers, viewing it as a means to support the scientific community by establishing an exceptional journal.
"My primary career goal is to facilitate the best science possible, achieved by effectively communicating research in an accessible manner," she added.
In addition to her editorial role, Pentzer was honored with the 2023 Journal of Polymer Science Innovation Award on March 16, further recognizing her contributions to the field.