Revolutionizing road safety: RoadPrintz puts groundbreaking robotic pavement-marking system to use across Cleveland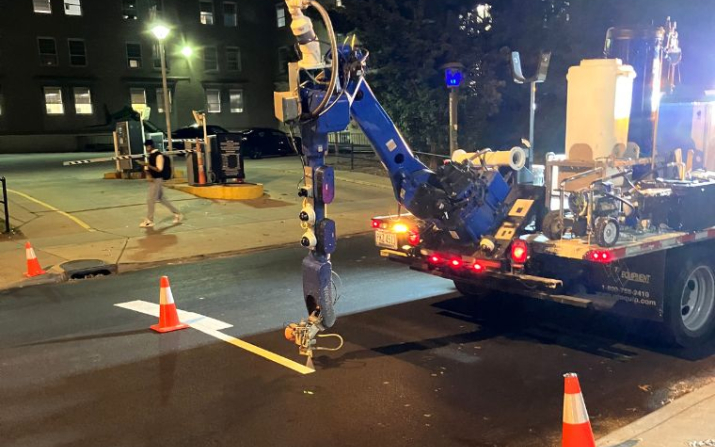 Published on
Nov. 15, 2023
A spin-off company from Case Western Reserve University has reimagined the often dangerous, labor-intensive process of road painting. While painting lines parallel to curbs is often an automated step, the typical approach to create many other new road markings is antiquated and dangerous. 
Enter Sam Bell and Wyatt Newman, professor of electrical, computer and systems engineering at Case School of Engineering with an expertise in robotics who launched an operator-driven, truck-mounted, mobile robotic pavement-marking system through their company RoadPrintz that has already been put to use around the City of Cleveland. 
RoadPrintz technology uses a special truck equipped with a robotic arm to apply paint with computer-controlled, vector-graphics brush strokes rather than stencils.
The truck can paint road markings (such as transverse markings, diagonals, bike symbols, school-zone markings and turn arrows) faster, cheaper and safer, since RoadPrintz workers don't need to leave the truck.

"Our system supplants the current practice of hand-stenciled application, keeping workers off the pavement and in the safety of the truck's cab," said Bell, a veteran mechanic and former chair of the City of Cleveland Heights Transportation Advisory Committee. "I have yet to meet a painter who does not know of several colleagues who have been killed or injured on the job if they haven't been injured themselves."
Bringing technology to roadways 
Over the past two years, RoadPrintz has done beta testing around the City of Cleveland, according to Newman. He said RoadPrintz has collaborated with city workers to paint turn arrows, "bus only" indicators and bike logos and arrows on Euclid Ave., as well as stop lines and crosswalks on Bridge Ave. near Gordon Square. Their system has also had a hand in painting handicap spots and parking lines in two Cleveland MetroParks locations; painting turn arrows in Rocky River; painting school zones in Broadview Heights; and, most recently, painting a crosswalk on Adelbert Road. RoadPrintz is currently finalizing its first sale with a road painting contractor in Canada.
RoadPrintz technology was created at Case Western Reserve University, with support from  the university's Technology Transfer Office, based on Prof. Newman's expertise in robotics. The technology developed has already been awarded one U.S. patent and one E.U. patent.
"Our office has been working with the inventors and their intellectual property since 2016 which led to [the formal launch of] Roadprintz," said Stacy Fening, interim director of licensing for the Technology Transfer Office. "We helped RoadPrintz successfully apply for funds from the Ohio Technology Validation and Start-up Fund—and directly invested in the company through the TTO's SPARTAN Investment Fund. RoadPrintz is a great example of the impact that high tech is making on legacy industries." 
RoadPrintz has also received funding from the National Science Foundation and from the Lorain County Community College's GLIDE fund, the State of Ohio's Technology Validation Startup Fund and Case Technology Ventures.
"Complex projects such as this require a multitude of talents," Bell explained. "We have been very fortunate to have access to excellent advisors and mentors whose guidance has enabled us to flesh out our ideas and do the hard work required to find funders and convince them of the viability of our vision." 
Discover more about RoadPrintz and learn more about the Technology Transfer Office at Case Western Reserve University.