ThinkEnergy Fellowship Student Profile: Nolan Sundheimer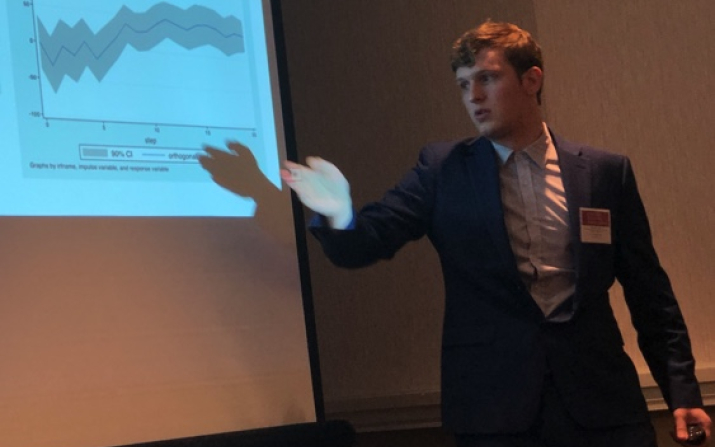 Published on
Mar. 30, 2021
Our 2020-2021 ThinkEnergy fellows are outstanding students who are working diligently to advance innovation in the Energy field. This year we have 15 students from various majors and schools working on three amazing entrepreneurial projects. We hope these student profiles will help you to get to know more about these students, their passions, and their amazing work. See all the profiles here.
Nolan Sundheimer a second year masters of business administration student with a focus in finance and business technology:
1- If your soul was a song, which song would it be?
Almost any song by the Monkees (Daydream Believer, Monkees Theme Song, Steppin' Stone, Pleasant Valley Sunday, Last Train to Clarksville, I'm a Believer, etc.)
2- If you had to eat one meal every day for the rest of your life what would it be?
A buffet, you could get sick of some particular option after a month, plus its hard to find a food with universal sustainability. This option provides variability, and can increase my lifespan.
3- How did you hear about the ThinkEnergy Fellowship and why did you apply?
I heard about it when Mark presented about clean energy to the Weatherhead Graduate Programs.
4- What energy problem is your entrepreneurial team working to solve with a product?
We are focusing on making a phosphorous additive in the electrolytic solution to increase lithium ion battery longevity.
5- What is your role(s) on your entrepreneurial team?
Financial Business Analyst
6- What is your favorite part of the program so far this year?
Being able to attend energy conferences to see the development of the energy storage business. Also having the chance to work alongside my team has been an absolute pleasure. Not only are they extremely intelligent with chemical engineering, but they also are incredibly diligent colleagues I would be lucky to work with on any project.
7- What is one thing you find challenging in the program so far?
Learning all of the technical framework of scientific innovation. However, attending workshops every week has taught me a great deal on innovation with engineering.
8- What is one thing you hope to get out of the experience?
I hope to be able to utilize business development skills to improve different assets within my future organization. I also get to witness new market trends within the energy market, and see the newest innovations which has been an unforgettable experience."