ThinkEnergy Fellowship Student Profile: Hein Htet Aung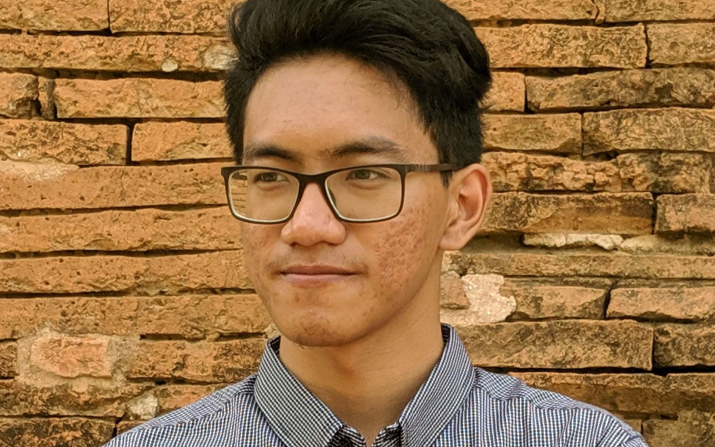 Published on
Mar. 31, 2021
Our 2020-2021 ThinkEnergy fellows are outstanding students who are working diligently to advance innovation in the Energy field. This year we have 15 students from various majors and schools working on three amazing entrepreneurial projects. We hope these student profiles will help you to get to know more about these students, their passions, and their amazing work. See all the profiles here.
Hein Htet Aung a third-year student from Yangon, Myanmar, majoring in Mechanical Engineering and minoring in Data Science:
1- What is your favorite thing to do at CWRU outside of the classroom?
Going to Mitchell's Ice cream. My favorite flavor is Butter Pecan.
2- What is your most treasured memory at CWRU?
Seeing snow for the first time in my life. It was when I came out of KSL and I've never seen like it before.
3- If you had to eat one meal every day for the rest of your life what would it be?
Biryani. I can never get tired of eating it.
4- How did you hear about the ThinkEnergy Fellowship and why did you apply?
I saw a group from Think Energy Fellow Program presenting their project at a Saint-Gobain Competition at CWRU and that's also when I met Mark.
5- What energy problem is your entrepreneurial team working to solve with a product?
Our team is working to predict the battery health and life-time of Lithium-ion batteries.
6- What is your role(s) on your entrepreneurial team?
My role on the team is on the business side such as doing market research and doing customer validation.
7- What is your favorite part of the program so far this year?
Listening to guest speakers and learning about their perspectives and stories.
8- What is one thing you find challenging in the program so far?
The entrepreneurial side of the project is challenging for me but also exciting since this is the first time I've worked in a start-up type of project.
9- What is one thing you hope to get out of the experience?
I hope to get a better overview of the energy sector and also make meaningful connections with people we are passionate about the same issues as I am."