Students Earn Top Awards at 65th Annual May Meeting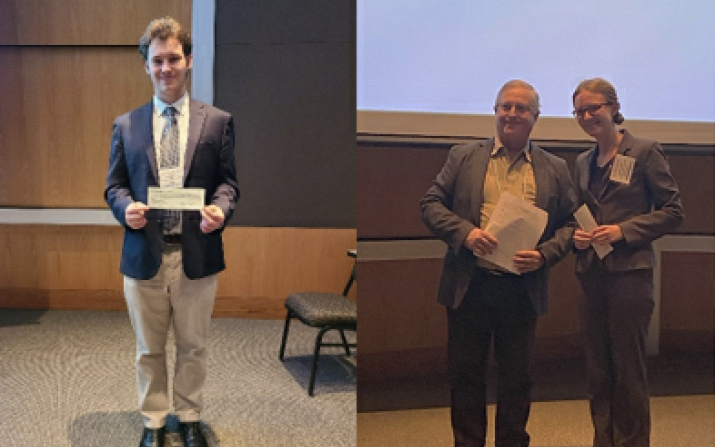 Published on
Aug. 1, 2023
Congratulations to Dan Rakowsky, senior biomedical engineering, and Sylvie Crowell, masters material science and engineering, on placing first in the Best Student Paper Competition and first in the Physical Sciences Poster Section, respectively. Rakowsky and Crowell are mentored by Dr. Janet Gbur, Research Assistant Professor in Materials Science and Engineering and Investigator in the VA Advanced Platform Technology (APT) Center.  
Rakowsky's presentation, "Effects of Aerosol Jet Printing on the Fabrication of Flexible Circuits" explored the parameter space for aerosol jet printing and effects on the resulting depositions which were captured with optical microscopy. "I am grateful to be selected for the award for Best Student Paper for my presentation. I enjoyed this fantastic event and I hope to attend again in the future to meet more subject matter experts and attend more excellent presentations." said Rakowsky. His work is a part of the MDS-Rely funded program investigating the lifetime performance of these additively-manufactured flexible circuits.
Crowell's presentation, "Characterization of Aging Behavior of Silver Nanoparticle Ink for Aerosol Printing" investigated the impact of shelf life on the size of silver nanoparticles using scanning electron microscopy with a transmission detector.  "It was an honor to receive an award for the Best Physical Sciences student poster for my work. It was a great experience to attend the meeting and learn from the talented presenters about exciting ways to apply microscopy in the research world." said Crowell. Her work supports the development of several APT Center and VA-funded projects investigating aerosol jet printing for manufacturing flexible circuits for biomedical sensors.
Co-sponsored by the Microscopy Society of Northeastern Ohio and the local Society for Applied Spectroscopy, the 65th Annual May Meeting was held at John Carroll University.