Society For Biomaterials Biomaterials Day 2023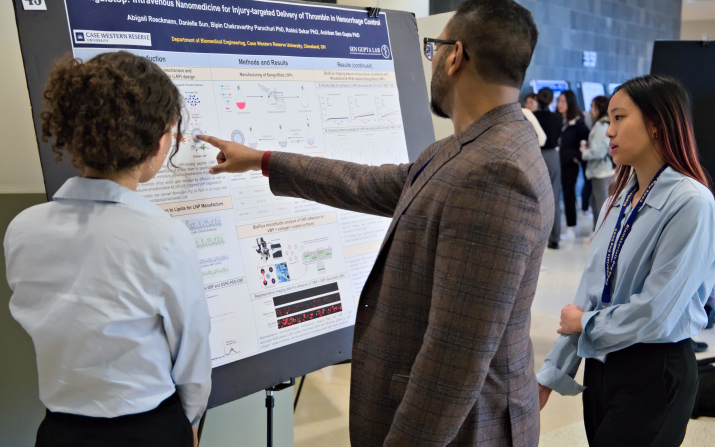 Published on
Nov. 20, 2023
In early November, Case Western Reserve University's Department of Biomedical Engineering hosted the Society For Biomaterials (SFB) Biomaterials Day on campus. Adding up to be the largest in department history, 153 attendees hailing from Northwestern University, University of Pennsylvania, University Of Michigan, University of Kentucky, Carnegie Mellon, Ohio State University, University of Akron, Cleveland State University and The Cleveland Clinic joined the day's activities, ranging from keynote speakers to a poster session and an industry lunch.
Students heard from speakers a number of speakers, including:  
James Anderson, CWRU Distinguished University Professor
Guillermo Ameer, Daniel Hale Williams Professor at Northwestern University
Vivek Shenoy, University of Pennsylvania
Gallego-Perez, The Ohio State University
Brittany Givens, University of Kentucky
Margot Damaser, Cleveland Clinic
Julie Renner, Case Western Reserve University
Abhinav Acharya, Case Western Reserve University
They were also encouraged to participate through the "Young Scientist Podium Talks" that featured 18 students—undergraduate and graduate—from a number of the represented schools who took turns discussing their research. 
The student engagement didn't stop there, however. Fifty six students participated in the afternoon poster session, sharing more about their research. 
"Young scientists had the opportunity to learn about biomaterials research conducted by peers at CWRU and nearby institutions, engaging with prominent professors not just from CWRU but across the midwest," Aditi Shirke, biomedical engineering PhD student and CWRU SFB chapter president, said. 
Plus, students got exposure to life working in industry from biomaterials companies like Haima Therapeutics, NeuronOff, Lubrizol, COLLAMEDIX and Steris who tuned in for the industry luncheon and answered questions about their career journey.
"Students were exposed to different career paths they can pursue based on their goals," Shirke said. "This event fostered a dynamic exchange of scientific concepts and ideas within the biomaterials field."