From silos to synergy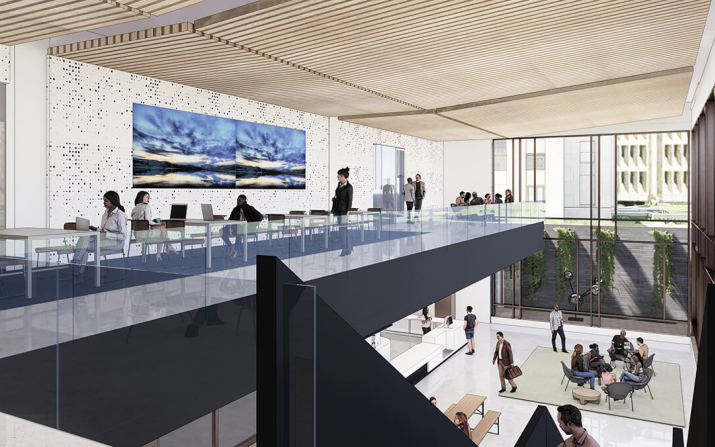 Published on
Nov. 14, 2023
When the Interdisciplinary Science and Engineering Building (ISEB) opens in 2026, the Case Western Reserve community will discover a bright and vibrant space designed to create an atmosphere of new ideas, possibilities and partnerships—both planned and serendipitous.
The "ISEB will enable scientists and engineers to seek new insights and solutions in ways we haven't been able to do on this campus before—that's a game-changer," said Venkataramanan "Ragu" Balakrishnan, PhD, the Charles H. Phipps Dean of the Case School of Engineering.
The building's first floor will serve as a kind of academic living room, with a ground-level café and an array of social spaces to encourage spontaneous meetings among faculty and students from diverse disciplines.
"Grabbing coffee, meeting colleagues and making new friends—that's when great ideas come to life," said Interim Provost Joy K. Ward, PhD, who, as dean of the College of Arts and Sciences, played a key role in planning the building and continues to do that in her current position.
The structure's research areas will be modern and flexible, contain cutting-edge equipment and include a combination of wet, damp and dry labs, as well as configurable collaboration areas.
By blending the methodologies and tools at the crossroads of science, engineering and other areas, the approach will enable investigators to tackle sophisticated challenges in novel ways, while building on existing university strengths.
Although the building will not include classrooms, "there will still be a lot of teaching going on with graduate students, post docs and undergraduates working in interdisciplinary teams ... to address real and pressing problems," Ward said. It's vital for the university not only to grow research already on campus but keep pace with other academic institutions in the quest for discoveries as well as talented faculty and students.
Earlier assessments of the university's research enterprise flagged inadequate space and outdated facilities as major obstacles to growth. Modern labs can help faculty be more competitive in vying for research funding and productive industry partnerships. The ISEB is "an absolute necessity for [CWRU] to remain a leading research university," said Michael Oakes, PhD, senior vice president for research and technology management.
It will also help extend the university's impact in Cleveland and around the world. "This transformative new building will enable Case Western Reserve to expand collaborative [research and development] ... and to enhance its reputation as a global research university," said Baiju Shah, JD, president and CEO of Greater Cleveland Partnership. "All of this increases innovation, attracts talent and powers Greater Cleveland's continued economic growth."