PhD student wins funding from NASA and develops multidisciplinary team of undergraduate students to build novel machine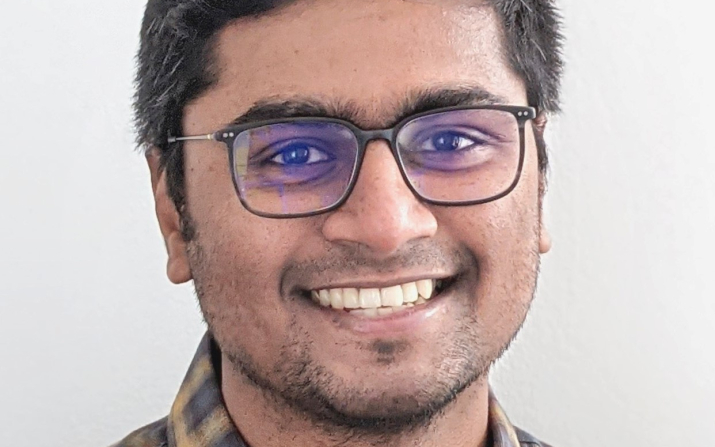 Published on
Mar. 3, 2023
Vishnu Ramasamy, a second year PhD student working under John Lewandowski in the Department of Materials Science and Engineering, is well versed in working with 3D printers. He's even worked on building one that is capable of 3D printing wind turbine blades. 
Now, he's taking the next step, designing and building the Arc One, an open-source low-cost, modular machine that 3D prints metal using Wire Arc Additive Manufacturing (WAAM)—a production process used to 3D print or repair metal parts. In its final form, the Arc One machine will 3D print metal components and, more importantly, allow researchers to easily and quickly implement and test new hardware and software-based techniques to improve the WAAM process.
"The outcome of this work will develop an easy to access WAAM platform for research teams that will significantly help to develop the process and materials, which will be useful to highly relevant industries using or planning to use this additive manufacturing process," Ramasamy said.
With initial funding from the Institute for Smart, Secure and Connected Systems (ISSACS), think[box] and LaunchNet, Ramasamy was able to assemble the machine's frame. After receiving $80,000 through NASA's University Student Research Challenge this year, Vishnu built a multidisciplinary team of 10 students to help him complete the work. 
Garrett Tieng is a third-year mechanical and aerospace engineering student working on the frame team. Their current goal is to ensure the different axes of the printer are perfectly aligned and linear so when it comes time, the printing is accurate. Eventually, his team will be responsible for integrating the welding apparatus into the machine and that's when they can start 3D printing metal. 
"Novel manufacturing techniques like 3D printing metal are very exciting because we are creating something that can do things that you couldn't normally do," Tieng said. "Being a part of a project that is pioneering that research is really exciting." 
Once the machine is built and optimized, it will support the research funded by the National Science Foundation's Engineering Research Center—HAMMER (Hybrid Autonomous Manufacturing, Moving from Evolution to Revolution)—where John Lewandowski, Distinguished University Professor and the Arthur P. Armington Professor of Engineering II in materials science, leads the CWRU team.
"This is a relatively new metal 3D printing process," Ramasamy said. "If we can achieve manufacturing a part that is more mechanically sound, like printing a rocket nozzle with less waste and more strength, then people will lean towards this process for better performing parts."
The Arc One team is looking for students to work on the project over the summer and/or fall. Interested students should contact Vishnu Ramasamy at vxv191@case.edu for more information.