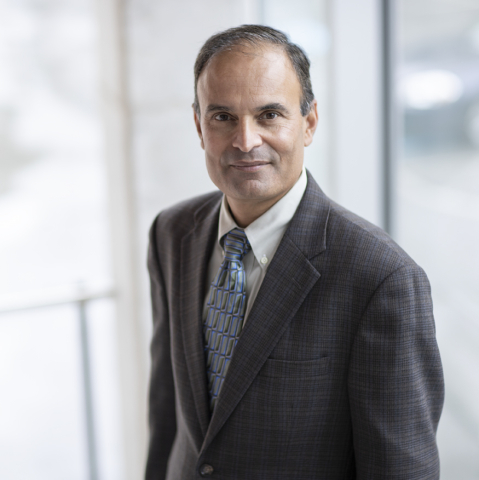 Venkataramanan "Ragu" Balakrishnan, the Charles H. Phipps Dean of the Case School of Engineering, received his B.Tech degree in electronics and communication engineering and the President of India Gold Medal from The Indian Institute of Technology, Madras, India in 1985, graduating at the top of the university. He received an MS degree in statistics in 1992, and MS and PhD degrees in electrical engineering, in 1989 and 1992 respectively, all from Stanford University. Following post-doctoral stints at Stanford, Caltech and the University of Maryland, he joined the faculty of the School of Electrical and Computer Engineering (ECE) at Purdue University (West Lafayette, Ind.) in 1994, where he last served as the Michael and Katherine Birck Head of ECE and professor. Prior to assuming the leadership of ECE, he served in a variety of leadership positions at Purdue, most notably as associate dean of research of the College of Engineering. He was appointed dean of the Case School of Engineering at Case Western Reserve University in September 2018.
Balakrishnan is also a professor in the Department of Electrical, Computer and Systems Engineering; his research interests are primarily in the areas of control, and the application of convex optimization to problems from systems, control, robotics, communication and signal processing. He is a coauthor of the research monograph Linear Matrix Inequalities in System and Control Theory, SIAM, 1994. Balakrishnan has held several volunteer and leadership positions in the systems and control community, including editorial positions at the IEEE Transactions on Automatic Control and the SIAM Journal on Control and Optimization. He was appointed to the IEEE Control Systems Society Board of Governors for 2014, served on the IEEE CSS Executive Committee as the Director of Operations during 2016-18, and served as an elected member of the CSS Board of Governors during 2019-21.
Balakrishnan received an Office of Naval Research Young Investigator Award (ONR-YI) in 1997. From the School of Electrical and Computer Engineering at Purdue, he received the Ruth and Joel Spira Outstanding Teacher Award in 1997, and the Honeywell Award for excellence in teaching in 2001. He was named a Purdue University Scholar in 2008. Balakrishnan is a Fellow of the IEEE.